Books
Fahrelnissa Zeid. Painter of Inner Worlds provides a revisionist and definitive account of the Turkish modernist extraordinary life, and the constant innovation and reinvention that characterized her cosmopolitan career until her final decades working and teaching in Jordan. It foregrounds the importance of her extensive knowledge of European culture and her shifting mental state on her artistic vision, and challenges orientalist interpretations of her art. In doing so, it redefines Fahrelnissa Zeid for the contemporary reader as one of the most important modernists of the twentieth century. This book is based on unprecedented access to her private papers and personal archive.
---
Palestine. we lack for nothing here: New essays, poems, and art work by prominent Palestinian and international artists and intellectuals: Jumana Emil Abboud, Hany Abou-Assad, Atef Abu Seif, Abdul-Rahim Al-Shaikh, Souad Amiry Gharib Asqalani, Mourid Barghouti, Taysir Batniji, Raed Bawayeh, John Berger, Yves Berger, Mahmoud Darwich, Mahmoud Shukair, Fayçal Darraj, Isabel de la Cruz, Nathalie Handal, Akram Haniyyé, Mona Hatoum, Emily Jacir, Hassan Khader, Yazan Khalili, Michel Khleifi, A. Laïdi-Hanieh, Francis Martens, Aicha Odeh, Els Opsomer, Elias Sanbar, Raja Shehadeh, Adania Shibli, Ahlam Shibli, Hala Shrouf, Jacques Sojcher, Soumayya Soussy, Tania Tamari-Nasir, Vera Tamari, Marc Trivier, Satoshi Ukaï, Christiane Vollaire, Manar Zuabi.
Revue Ah! (Brussels) Cercle d'Art (Paris), 2008
---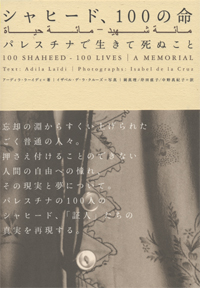 "What is…most striking, even refreshing about this…sober…catalogue…been able to…retain the dignity of…victims"
AhramW.
100 Shaheed – 100 Lives: Arabic/English exhibition companion book.
Khalil Sakakini Cultural Centre (Ramallah), 2001.
2003 Japanese edition: ISBN # ISBN4-7554-8008-6.
Reviews:
Amina Elbendary.  The Ahram Weekly. 13 – 19/10/2001. 100 names, 100 faces